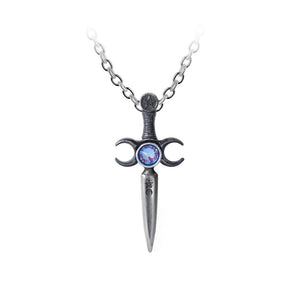 Alchemy Of England
Athame Pendant
Regular price
$47.95
$0.00
Unit price
per
The name of the black-handled, double-edged ceremonial dagger of Wicca, one of the four elemental tools used in magic ritual, and complementary to the white-handled 'boline'.
Take Wiccan magic with you on any journey!
A miniature ceremonial Wiccan magical dagger, made in two-tone pewter with a bronzed hilt and crescent moons, with the central full moon set with an iridescent blue australian crystal.
Approximate Dimensions:
H: 54mm (2.13") W: 23mm (0.91") D: 10mm (0.39")
Chain:
21"
Materials:
Fine English Pewter, Irridescent Blue australian Crystal
---