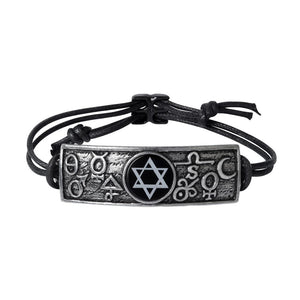 Alchemy Of England
Principia Alchemystica Bracelet
Regular price
$52.95
$0.00
Unit price
per
A talismanic magic tablet device for assisting in the achievement of the the alchemist's magnum opus, the 'great work', incorporating sigils of the principle constituents required for alchemical transmutation; sun, moon, spirit, salt, sulphur and mercury, and a Solomon's Seal formed by the unity of the four elements engraved upon its natural black onyx focal disc.
The meanings of each alchemical sigil are engraved upon the back of the tablet.
Add some magic to your outfit, every day whilst wearing this piece. Perfectly paired with P869
A 60mm long rectangular curved pewter tablet, framed and embossed with essential alchemist's symbols against an engraved background of old handwritten magical text, and set centrally with a black onyx disc, engraved with the elemental Star of David. Upon the tablet's back is engraved the meanings of each individual symbol.
Approximate Dimensions:
rectangle is 60mm long, cord is adjustable
Materials:
Fine English Pewter, Onyx Disc, Black Cord
---